The Murchison Estate, The Gropius House, 2 Commercial Street.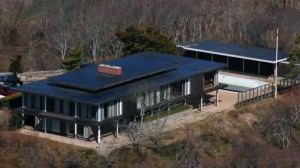 There are few buildings as startling — in this town of gabled roofs and shingles — as the modernist landmark designed in 1959-60 for Carl and Dorothea Murchison by TAC, The Architects Collaborative, with Robert S. McMillan nominally in charge. Built less than a decade after Mies van der Rohe's Farnsworth House, 2 Commercial Street is a two-level International style slab with walls of glass. Because Walter Gropius (1883-1969) was a partner in TAC, this is frequently referred to in town as the "Gropius house."
The original Gropius House is the original structure in the Pilgrim Landings "sub division" and sits atop the hill at 2 Commercial Street. See my prior post "Far West End Activity."
To see more of the original "Gropius House" go to Building Provincetown Blog. David Dunlap has done an incredible job over the years publishing wonderful facts about many Provincetown buildings. His blog is an absolute joy to explore.