Provincetown Truro and Wellfleet First Quarter Figures 2013
Coming off a banner year in 2012, where year-end sales surpassed industry expectations, we wouldn't have been surprised at a more "normal" first quarter of 2013. Real estate sales did slow as winter activity was moderated by weekly snowstorms more than by any changes in market fundamentals. Sales were more aligned to 2011 than to 2012.
The average sale price for a single-family home in Provincetown was up 27% to $1.021M, but the number of sales was down 25% from 12 to 9 sales. Total dollar volume was about even with 1Q2012 at $9.2M and average days on market were even as well, at 189 days.
There were 16 condo sales in the first quarter, down from 29 last year. The average sales price was $367K, which was down 8% from 2012. The decrease in condo sales was evident, as buyers were not inclined to show up on snowy weekends to shop for real estate.
The continued decrease in inventory remains a factor as the number of properties for sale continues its decline to about 25% from the same period last year. There are currently 52 single-family homes available for sale in Provincetown with an average asking price of $1.373M. There are 102 condominiums available for sale with an average asking price of $476K.
In our year-end report for 2012, we mentioned the decrease in available homes for sale were beginning to build the case for spring 2013 being an opportune time for sellers who had been sitting on the sideline, to put their property on the market. The case has been made. Mortgage rates remain at historic lows and the buyer pool is growing. This evolving supply and demand dynamic in Provincetown will be the factor to watch moving forward in 2013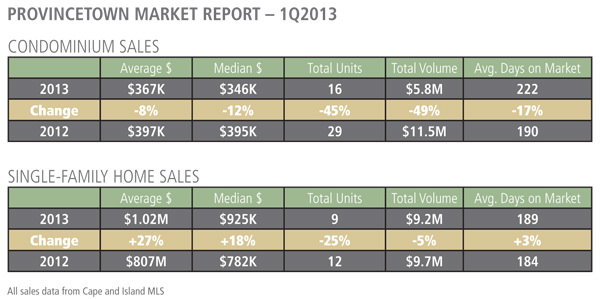 Single-family home sales in Wellfleet and Truro were strong in the first quarter. In Truro, sales increased by 27% from 11 to 14. The average sales price decreased by 21% to $617K from $785, while the median sales price increased by 3% to $613K from $595K. Total sales volume remained flat at $8.6M.
Single-family home sales in Wellfleet increased 12% from 8 units to 9 units. The average sales price increased 3% to $510K from $496K, while the median sales price slipped 18% to $395K from $482K.
First quarter sales analysis can swing wildly on the outer Cape, as the numbers are relatively small and one sale plus or minus can move the percentages in a dramatic fashion. The first quarter is just a hint of what is to come and begins to outline the narrative for the full year ahead in real estate on the outer Cape.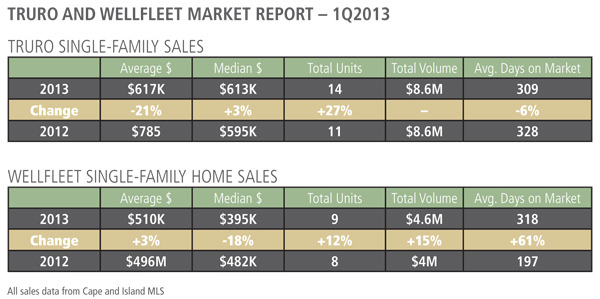 In our wrap up we are going to repeat what we said in our 2012 year-end review. Real estate is back! And while we don't want to be accused of having "irrational exuberance," we continue to see buyer excitement that has not been seen for years. But, buyers do need to see more choices. Sellers are becoming more confident that this is the time to sell. These positive buyer and seller attitudes and the continuation of rock-bottom mortgage rates bode extremely well for 2013!
Please call or stop in if you are considering selling or if you are just curious as to what your home is worth. Our business philosophy is that the best-informed sellers and buyers are the happiest. And, that's what we do best.