119 Bradford Street is a five bedroom, two bath 1750's single family home with 1,920 square feet. It is being marketed for $915K.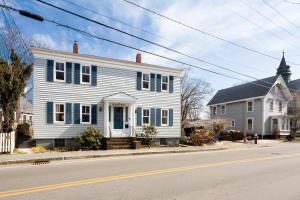 Remarks: On the market for the first time in 70 years. This stately home has graced Bradford St. since 1797 & has served the town as a Mason's Lodge, a school & the first Catholic church! The first floor has a living room, dining room, kitchen & a bedroom with a full bath. The second level has 4 good sized bedrooms & a full bath. The property is connected to the sewer system for 5 bedrooms. A bedroom count of this size is often found in small guesthouses. This property is in the TCC Commercial zone – the same as Commercial St. Parking requirements are waived in this zone & the town has traditionally been very supportive of new guesthouses. This building could be a stand alone guesthouse or would make a perfect annex to an existing inn or stay a private home. The premises are being sold "as is". Listing courtesy of Remax Long Point.
See all available properties for sale at Beachfront-Realty.com.