There were 34 single-family homes sold in Provincetown in 2019. The lowest priced sale was $412K and the highest was $2.1M. The average sale price was $1.15M.
The lowest price was for 50 Nelson Avenue a two bedroom two bath home with 992 square feet. It has a large lot suitable for development. It sold for $412K with a listing price of $799K.
MLS Remarks: This sweeping, beautifully wooded 31,000 sq. ft lot (.8 acres) offers significant development opportunities. Renovate and expand the existing 2 bedroom, 2 bath home, add additional structures or dwellings, or re-develop the entire lot. The property offers the potential for building 10-14 units, depending on design & approvals. The lot's elevation also allows for potential views of Town and beyond.
The highest sale price was for 7 Oppen Lane a Contemporay Cape with three bedrooms and four baths with 3000 square feet. It sold for $2.1M with an asking price of $2.995M.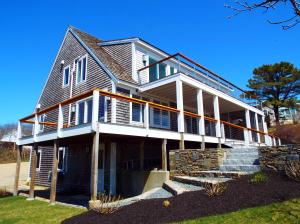 MLS REMARKS: Open the beautiful Sea Glass-colored front door to this spectacularly renovated Contemporary Cape and be blown away by the views, inside and out. From the open two-story foyer your eyes rise to the sun splashed second floor mezzanine with cathedral ceilings and twin skylights. The Post and Beam Construction allows for huge open spaces and soaring ceilings, all designed for easy entertaining and beautiful light-filled living. Gorgeous views to the Moors and the Atlantic from both the first and second levels of this home will captivate you.
The range of prices, styles and locations of properties available in Provincetown drives the towns diverse population of both residents and visitors. There is really something for everyone.
See all available properties for sale at Beachfront-Realty.com.