"Best timing" differs in all locales but the late summer and fall market is the busiest time on the Cape to buy or sell a home. Good post by Julie from Boston.com  below.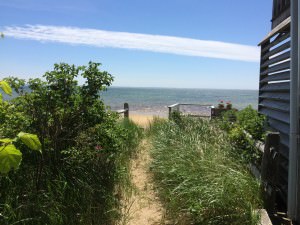 By Julie Xie
Boston.com Staff
Sun dresses and beach towels are on sale at the mall. So are vacation homes on the market.
Turns out, September and October are great months to go vacation home hunting in New England because prices are dropping. It makes sense — sellers want to get properties off their hands because they don't want to maintain them through the winter.
Doug Reece, who works as a realtor for Martha's Vineyard at RE/MAX, recently worked with a seller who dropped the price of his house from $900,000 to $699,000.
"As a buyer, you've got to be ready to hop in the car and get here on short notice when those things happen. Or else someone else will," he said.
While it's hard to put exact numbers on it, Kevin Austin, from Cape Cod Oceanview Realty, said people tend to drop their prices around 5 percent just to get people to come look at the house and stimulate some activity.
"If people feel they can get a house for cheaper, they'll usually wait until September and October to see if the price will drop," said Austin, who specializes in the Orleans area of Cape Cod.
The trend is expected to continue until the end of the calendar year. By the time January and February roll around, many sellers figure that if they've already held a property for that long, they might as well hold on to it for another season.
Early spring is another busy season for New England vacation homes, as buyers want to close on a property and use it for the summer.
Nationally, the best times to buy vacation home differ by region and climate, but in general there has been a 30-percent surge in vacation homes in 2013, according to the National Association of Realtors.
And Lawrence Yun, NAR chief economist, expects this upward swing to continue in 2014. A nearing-retirement baby boomer population and an improving stock market are likely to give rise in vacation home purchases.
Bottom line: Act fast and get yourself to the Cape.