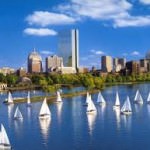 As we are all assessing the outlook for the spring market, Scott at Boston.com has some good points, and while this post is based on national polls, we are hearing the same thing in our marketplaces.  Sellers wonder if they do list and sell there propertry, will there be anything decent to buy! An important question as we move into the spring selling season.
Posted by Scott Van Voorhis
That's the question many potential home sellers are asking as they watch prices climb again in an increasingly tight market.
Would-be home sellers, as they consider taking the plunge, are no longer primarily concerned with the state of the economy in deciding whether to list their house now or wait. Instead, the top concern now is whether by selling now, they will pass up even bigger gains down the line if they should choose not to hold out for a few more months, Redfin reports in a new survey on seller attitudes.
It's not that they are not interested in selling – just under half the more than 1,800 homeowners polled by Redfin said they were planning to sell, up from 45 percent in the fourth quarter. (Just to be clear, this was not a broad sampling, but rather a tally of homeowners who visited Redfin's website.)
But 34 percent  of homeowners surveyed told Redfin that missing out on future gains was their biggest concern with diving in now, up from 30 percent at year end. Moreover, potential sellers are also growing increasingly bullish in their take on the market as well, with 81 percent now predicting more increases in home prices over the next year, up from three-quarters last fall.
Needless to say, with warmups beginning for the annual spring market, this is not a good sign. In fact, we could see some sellers sit out the spring market altogether, waiting to see if prices continue to rise. After that, we could see new inventory start to trickle on, but it seems unlikely at this point we are going to see an avalanche of new listings in the next few months.
That's my bold prediction – feel free to jump on the comment board with your own take.
It's certainly not what frustrated buyers, yearning for more listings to choose from, want to hear, but the market is what it is right now.
Of course, there are other factors at work here. Any broker will tell you another big concern of potential home sellers, especially here in the Boston, is the fear they won't be able to buy anything decent if they go ahead and sell what they have now.
Not unreasonable given the precipitous drop in home listings, which fell by more than 25 percent in Boston alone over the past year, helping push prices up 4.1 percent, according to the Department of Numbers.

So why shouldn't sellers keep holding out for more? Until buyers and brokers come with a better argument – or really any counterargument at all – sellers are likely to keep on watching and waiting instead of listing.