Provincetown year-to-date sales moderated somewhat from a robust 2012 first half as a shortage of properties for sale and a harsh winter kept buyers on the sidelines. Recently the market ticked up markedly as the weather improved.
Condominium sales slowed by 27% from 69 units last year to 50 this year, although a sluggish 16 sales in 1Q more than doubled in 2Q to 34. The average sales price of condos sold stayed relatively flat at $390K – a 2% decrease from $400K last year. Days on market for condominiums sold decreased by 8%; further illustrating the lack of inventory.
Single-family properties performed well with a 24% increase in the average sale price from $731K in 2012 to $905K year-to-date. The median sales price increased 28% to $867K from last years $675K – 22 have sold so far this year against 27 last year. Total sales volume was up 1% to $19.7M.
The average days on market has decreased in both categories driven by less inventory available for sale and relatively strong demand. For condos, it decreased 8% from 214 to 197 and for single-family properties, DOM decreased 22% from 253 to 197. Properties are selling faster as there are fewer on the market and demand remains very high.
Speaking of inventory, currently there are 110 condos on the market with an average listing price of $470K and an average price per square foot (ppsf) of $557. There are 54 single-family properties on the market with an average listing price of $1.411M and an average ppsf of $558.
The market has heated up in the past several weeks with several properties going under contract. The most interesting development is that two, $2M+ houses on Telegraph Hill went under contract in the past few weeks. The number of properties going U/A has increased noticeably. It has turned into summer overnight and the fourth of July has come and gone. The season is in full swing!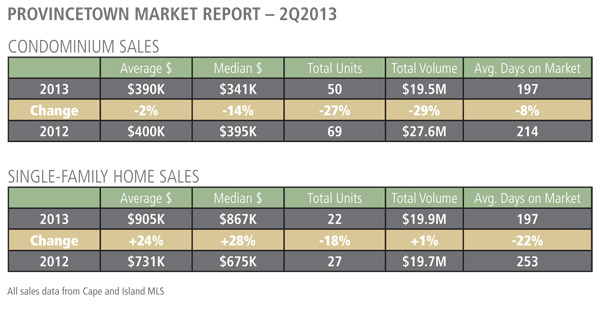 Other towns on the Outer Cape have experienced a similar dynamic. The number of single-family home sales in Truro was down 13% to 26 units from 30 in 2012. The average sales price was down 18% to $607K from $737K last year.
The Truro market consists mostly of single-family homes. There are currently 72 single-family properties available to chose from.
In Wellfleet, the single-family market performed better than last year with a 4% increase in the average sales prices to $556K from last year's $533K. The number of sales was the same as in 2012 at 32 properties sold. The current 93 single-family homes available for sale offer many choices for buyers.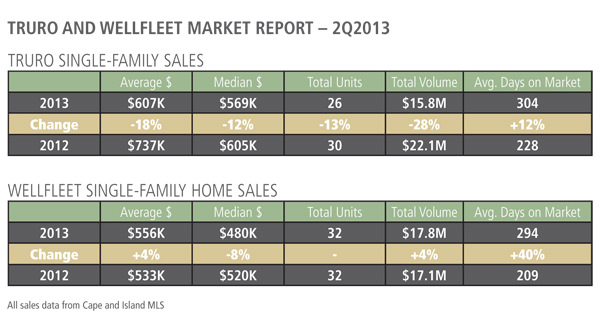 There is generally positive news on the outer Cape in both single-family homes and condominiums. A strong second-home market on the Cape is an indication of an improving economy and of improving consumer confidence. These buyer and seller attitudes and still relatively low interest rates are signaling a very strong second half for outer Cape real estate.
Please call or stop in if you are considering selling or if you are just curious as to what your home is worth. If you are considering buying a home, remember that our business philosophy is that the best-informed buyers are the happiest and it is what we do best.