Year-to-date sales through the 3rd quarter of 2013 continued to climb as the great weather brought more buyers to town. With market values of property slowly rising and continued low mortgage rates the time seemed right to buy.
The average sales price of condos sold was up 5% to $432K  from $412K last year. Although the number of sales year to date decreased by 23% from 115 units last year to 90 this year, 40 sold in the 3rd quarter making it the best period so far this year.
Single family properties performed well with a 24% increase in the average sold price from $795K in 2012 to $1.038M year to date. The median sales price increased 15% to $880K from last year's $752K. 32 single families have sold so far this year vs. 38 last year. Total sales volume was up 9% to $33.2M. There is clearly a demand for single family homes that have been slower to sell in the past.
The average days on market has come down overall driven by less inventory available for sale and relatively strong demand. For condos it decreased 14% from 194 to 166 days and for single-family properties DOM's increased 14% from 178 to 206 days.  The high end of the single family market traditionally takes longer to sell.
Speaking of inventory, currently there are 120 condos on the market with an average listing price of $500K and an average price per square foot (ppsf) of $571. There are 45 single-family properties on the market with an average listing price of $1.511M and an average ppsf of $550.
With the great weather in September and the forecast for above average temps throughout October, we expect the market to be busy through the end of the year.  There remain some wonderful opportunities to own a part of a very special place.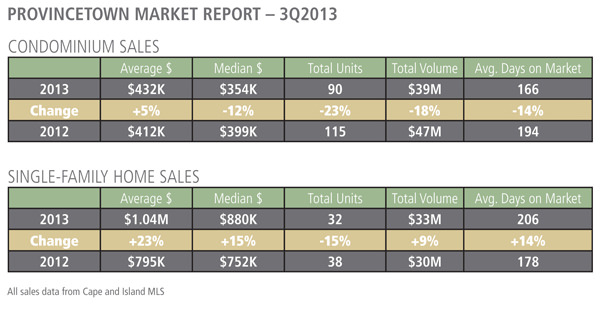 Other towns on the Outer Cape have experienced a similar dynamic. The number of single-family home sales in Truro remained the same as last year with 37 units sold over the first 9 months of 2013.  The average sales price was down 17% to $598K from $724K last year. The Truro market consists mostly of single-family homes. There are currently 72 single family properties available to chose from.
In Wellfleet the number of single family home sales declined 14% from the same period last year with 48 homes sold this year vs. 56 sold in 2012.   The average sales price remained the same at $526K.  There are currently 87 single family homes available for sale offering many choices for buyers.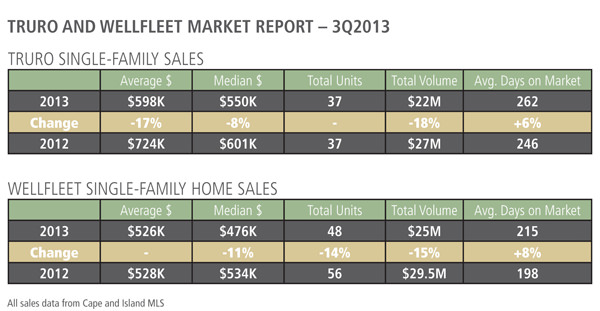 T
The third quarter market report is overall positive news on the outer Cape in both single family homes and condominiums. Although the number of homes sold is down somewhat from a very strong 2012, prices are rising after many years of depressed values. Demand remains high with many long time visitors taking advantage of low mortgage rates and slowly rising prices to search for their "special home" on the Cape.
Please call or stop in if you are considering selling or if you are just curious as to what your home is worth. If you are considering buying a home, remember that our business philosophy is that the best-informed buyers are the happiest and it is what we do best.