While it is tough to identify trends in the first quarter – especially a quarter rocked nationally and locally by severe winter weather, local sales and prices are bucking the national trends that show moderating sales numbers. First quarter results here on the outer cape were surprisingly strong given the relentless winter weather.
The average price of condos sold in Provincetown was up 25%. Single-family prices were up 6%. And in Wellfleet, 48% more single-family properties sold than last year. Total sales in Provincetown were up 22% from 31 sales in the first quarter of 2013 to 38 sales in 2014. Total volume closed was up 33% from $18.5M to $24.7M this year.
There were 24 condominium sales in the first quarter vs. 16 last year, an increase of 50%. And total condo sales volume increased 87% to $11M. The average sale price for condominiums in Provincetown was up 25% to $460K from $368K in 2013. Average days on market for condos decreased by an average of 37. The average price per square foot for condos sold was $500, up from $410 psf in the 1st quarter of 2013.
The average sale price for a single-family home was up 6% to an average sale price of $1.086M from $1.02M in 2013. Single-family home sales in Provincetown decreased by 33% to 6 from 9. Many of us feel that this is a result of lower inventory and not a true indication of market strength.
Provincetown continues to lead the way on the outer Cape with higher prices and higher sales volume. It continues to attract international buyers and buyers from around the country who have visited over the years who now want to have a home here on the Outer Cape.
This market dynamic continues to build the case for a strong spring market. It remains an historically opportune time for those sellers who have been waiting on the sidelines to put their property on the market. This strong demand for Provincetown real estate by more confident buyers has proven itself in higher sales numbers. The snow is gone and temperatures are finally above 40. Let the spring market begin.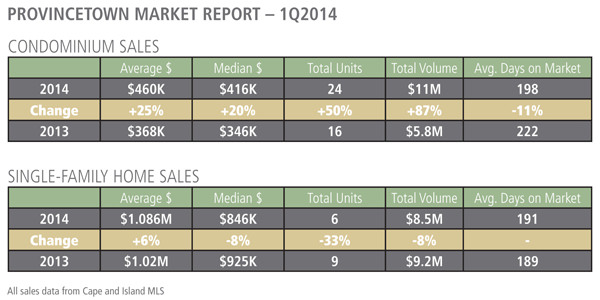 Other towns on the Outer Cape did relatively well too. The average sales price for single-family properties in Truro was up 19% to $733K from $617K in 2013. The number of sales was down to 8 sales from 14 last year. The Truro market consists mostly of single-family homes.
In Wellfleet, the average sales price of single-family properties sold increased 2% to $521K from $510K last year. The number of sales increased by 44% to 13 from 9 in 2013. Wellfleet is predominantly a single-family sales market as well.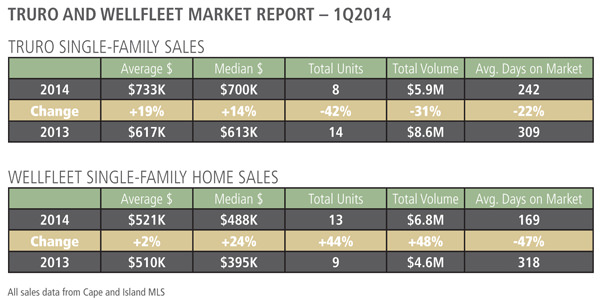 While these numbers are relatively strong it is always difficult to identify trends in the first quarter The one constant in each town and each category is increasing prices, even with the weather and a shortage of inventory. This illustrates a very resilient market and strong buyer demand.
Buyers do need more choices though as inventory remains low. Positive buyer and seller attitudes coupled with a continuation of relatively low mortgage rates and an improving economy bode well for 2014 being a great year to jump into the market.
Please call or stop in if you are considering selling or buying, or if you are just curious as to what your home is worth. Our business philosophy has always been that the best-informed buyers and sellers are most satisfied with their real estate results. And that's what we do best!