Informative post by Scott at Boston.com.
Where condo prices are rising fastest in Greater Boston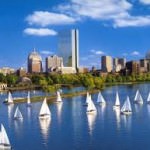 The Boston area condo market is poised to get even more expensive in 2016, with rising prices spreading from shiny new luxury towers downtown to traditionally working class enclaves.
The median condo price in downtown Boston neighborhoods like the Back Bay, Beacon Hill, the South End and the Fenway hit $775,000 in 2015, up 9 percent from the year before, according to The Warren Group, publisher of Banker & Tradesman.
But neighboring Revere, and Boston neighborhoods like Roxbury, Dorchester and East Boston, saw even bigger, double-digit increases.
Revere saw one of the biggest jumps in condo prices in the Boston area, with the median value leaping more than 23 percent to just under $280,000 in 2015. Sales were also up 9.8 percent for the year.
Roxbury condo prices were not far behind, rising 17 percent, to $427,500.
Dorchester, which is starting to see proposals for new condo developments, saw its median price rise nearly 12 percent, to $341,500, while East Boston hit $339,000 after an 11 percent jump.
"Bidding wars have moderated a little, but we saw 35-40% of Boston city neighborhood condos sold last year go over asking price," noted Michael DiMella, managing partner of Charlesgate Realty.
In fact, DiMella said that number rises to 50 percent when it comes to affluent and super-hot neighborhoods like the South End and Charlestown, which saw a 27 percent jump in sales last year, one of the largest increases in the Boston area. The median price of a condo in Charlestown rose 7 percent, to $570,000, according to The Warren Group.
Increasingly upscale South Boston saw prices rise 11 percent, to $555,000.
"There's some variation from neighborhood to neighborhood, but there was strong median price growth throughout downtown Boston, especially when you look at price per square foot," DiMella said.
Student-packed Brighton, which is seeing its own surge of new residential construction, also saw condo prices rise 9 percent, to $353,500, while sales edged up 4.7 percent, The Warren Group reports.
Hipster hotspots like Somerville, Jamaica Plain and Cambridge also experienced big run-ups in condo prices in 2015, though sales lagged amid a tight market that saw a decline in the number of units for sale.
Cambridge prices edged up nearly 6 percent, to $570,000, while Somerville was not far behind after a 13 percent jump boosted its median condo price to $540,000. But sales fell 5 and 15 percent in Cambridge and Somerville, respectively, Warren Group stats show.
Jamaica Plain proved to be an exception, with sales rising 6 percent and its median condo price hitting $440,000 after a 10 percent increase.
"The most important driving force in the market is lack of inventory," notes veteran Coldwell Banker real estate agent Sara Rosenfeld, who has been selling real estate in Somerville since the early 1980s. It is "supply and demand – simply laws of economics."