Spring is here and with that the pace of building and renovation is at full speed.  Every year between late March and June the wonderful sounds of saws and hammers and contractors trucks is comforting especially to those year rounders who anxiously await summer's return. I will continue updating you on all the commercial projects that are in the works and occasionally comment on interesting and visible private projects, always being aware of privacy concerns.
The development at 350 Bradford Street, at the old Michael Shays property.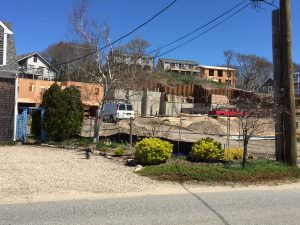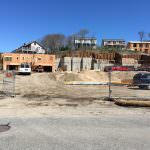 More going on at the former Michael Shays Restaurant property at 350 Bradford Street. The building has been demolished and there is an amazing retaining wall being built at the back of the property. One of the buildings on the west end of the complex is going up already! Hopefully we will see some marketing information soon….and Ill keep you posted. Developer Chris Wise plan calls  for the construction of 13 units, contained in six duplexes and one single-unit residence.
Lovely and iconic 82 Commercial Street sold last May for $2.350M. It looks like they are doing a full landscape/hardscape revision. You can watch the progress all spring while getting your sandwiches at Relish.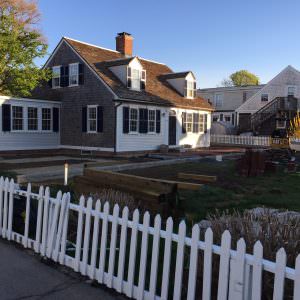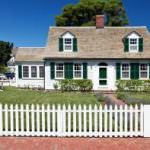 Past marketing Remarks: Offered on the public market for the first time since it was built in 1820, this showplace has only had 3 families own it in the past 100 years. This classic Cape Cod home, with its sweeping lawn & white picket fence, is an iconic property in Provincetown's West End, one of a very few that boast this square footage on almost a 1/4 acre of land, in the heart of the historic district. The house has been impeccably restored to its original grandeur, and all of its core infrastructure has been brought up to date.
76 Commercial Street, sold for $720K last July. It is a  three bedroom two bath condo with 2,225 square feet.  They have gutted the first two floors to the studs, and raised the house to put in a new foundation.  It will be exciting to watch the renovation progress on this classic Provincetown home this spring/summer.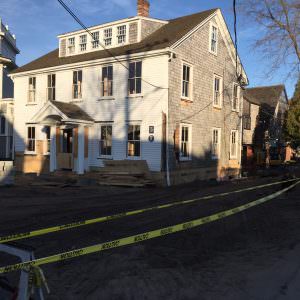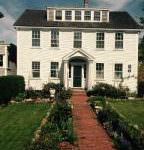 Past marketing Remarks: This spacious unit in the desirable West End once owned by Provincetown Artist Hans Hoffman – Beautiful views of the Bay and close to downtown shops, restaurants, and all that one needs in Provincetown.
See all available properties for sale at Beachfront-Realty.com.