I love posting about our "trophy" real estate market here in Provincetown where the highest sales price for a residential property sold in the last 12 months was $3.25M for 8 Telegraph Hill that closed in April. (see my recent post).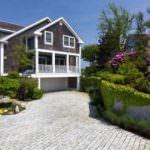 Take a look at this waterfront sale in Malibu CA that was reported in Variety Magazine's Realestalker column. Our little town seems rather tame and understated compared to it. Leave it to us New Englanders to understand understatement!
David Geffen Sells Oceanfront Malibu Compound for Record Price
SELLER:David Geffen
LOCATION: Malibu, CA
PRICE: rumored to be $87 million
YOUR MAMA'S NOTES: Word on the real estate street is David Geffen sold his oceanfront compound on Malibu's Carbon Beach in an off-market deal to an as yet unidentified businessman who some snitches say hails from the Lone Star state of Texas. Celebrity gossip juggernaut TMZ reported an elephantine sale price of $85 million but we heard from plugged in Platinum Triangle mover and shaker Peter Propertyseller the figure circulating in his rarefied real estate circle is an even more a spine straightening $87 million. Whichever amount the final sale price turns out to be, it will obliterate the previous record for the most expensive home ever sold in Malibu, an approximately 9.5-acre bluff-top estate billionaire investment manager Howard Marks sold to entrepreneurial billionaire Jim Jannard in a 2013 off-market deal for $74.5 million.
The tastefully designed and fastidiously maintained East Coast-style compound was not listed on the open market and so the stories go Mister Geffen engaged the services of several of Los Angeles's most prominent and successful brokers to surreptitiously shop the plummy property to qualified buyers with a pearl-clutching asking price of $100 million. The intensely secured and always guarded compound's cluster of grey-shingled structures includes a comfortably roomy main house, a couple of guesthouses and a separate pavilion that houses a screening room. There are thick carpets of lush lawns, a lily pond, a beachfront swimming pool and spa, and a variety of shaded verandas that include an outdoor living room with fireplace.
Carbon Beach is one of the most expensive stretches of sand in the low-key but exceedingly high-cost Malibu community and a short list of the many exuberantly rich folk who maintain homes along that prime stretch of sand includes Peter Morton, Eli Broad, Jeffrey Katzenberg and Jerry Bruckheimer. Les Moonves owns a glassy contemporary he bought a few years ago for $28.8 million from Paul Allen and Larry Ellison owns at least six homes along Carbon Beach including a Michael Graves-designed compound he snatched up in 2012 for almost $37 million from former Yahoo CEO Terry Semel.
Mister Geffen still owns a second, substantially smaller home on Carbon Beach he scooped up in 2008 for $9.8 million as well as a low-slung residence in the Beverly Crest neighborhood of Beverly Hills he's owned since the early 1970s and the spectacular, ten-acre former Jack Warner estate in Beverly Hills but he reportedly spends much of time at his various homes on the East Coast and on his 454-foot-long super-yacht "Rising Sun" on which he recently hosted Oprah Winfrey, Tom Hanks, Bruce Springsteen and former first couple Barack and Michelle Obama.
The septuagenarian music and movie tycoon, worth an estimated $7.5 billion per the bean counters at Forbes, owns three separate condos in the same swanky apartment house on New York City's fancy-pants Fifth Avenue: a one-bedroom and 1.5 bathroom bought in late 2014 for $2.3 million; a 12,000-square-foot triplex penthouse acquired in 2012 for $54 million from pop song writing international socialite Denise Rich; and an approximately 5,000-square-foot, Charles Gwathmey-designed two-bedroom and 2.5 bathroom that briefly popped up for sale in late 2016 at $27.5 million. And, finally, like many multibillionaires with all but bottomless bank accounts Mister Geffen also maintains a trophy home in the Hamptons, in his case a slightly more than two-acre oceanfront estate on one of the most prestigious lanes in East Hampton he picked up about a year ago for a head spinning $70 million.
See all available properties for sale at Beachfront-Realty.com.