PROVINCETOWN, TRURO AND WELLFLEET 1Q2023 FIGURES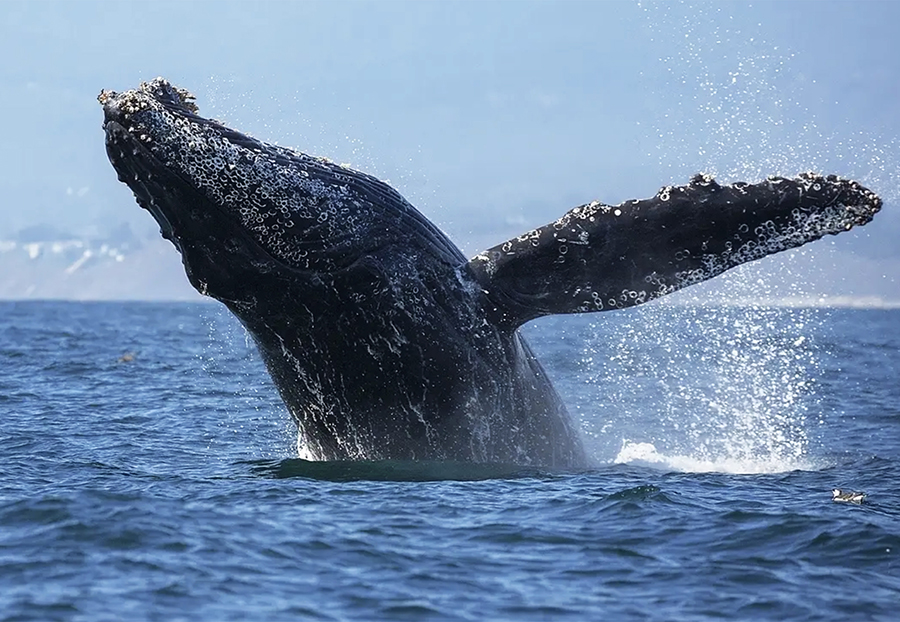 The magnificent right whales are back close to shore in record numbers bringing large groups of early visitors to Provincetown. More and more restaurants and shops are beginning to open and Commercial Street is getting its annual reset with businesses everywhere, renovating, adding seating, and otherwise simply freshening up. And happily, the mild winter also helped limit some of the stress on our tight real estate market. April is providing some relief with slightly higher inventory levels and this is also the month where we begin to detect the direction that the real estate market will take this year.
First quarter results are difficult to analyze because of the small number of sales. Our inventory problem continues, but we are finally seeing small increases in available properties. Demand remains consistently high, but the lack of units to sell is still impacting sales in every category. Average sale prices and unit sales are down in most categories – not great news as we enter the all-important spring market.
With sales down significantly for the first quarter, that gives us less of a sample from which to derive trends. For example, only four single-family properties sold in Provincetown in the first quarter of 2023, and only four sold in Truro as well. There is not a lot of data to analyze, but I will do my best to provide insights as well as provide all the empirical data which is in the charts below.
PROVINCETOWN
Condominium sales in Provincetown were down 15% to only 23 for the first quarter of the year, and the average sale price decreased 17% from $1.022M to $848K. There are only 21 condos on the market as of April 8. For some interesting context: 10 years ago in 2012, there were 131 condos on the market!
Single-family home sales were down 42% to only 4 this first quarter. However, the average sale price was up 15% to $2.3M. There are only 9 single-family homes on the market as of April 8. Ten years ago there were 51 single-family properties on the market!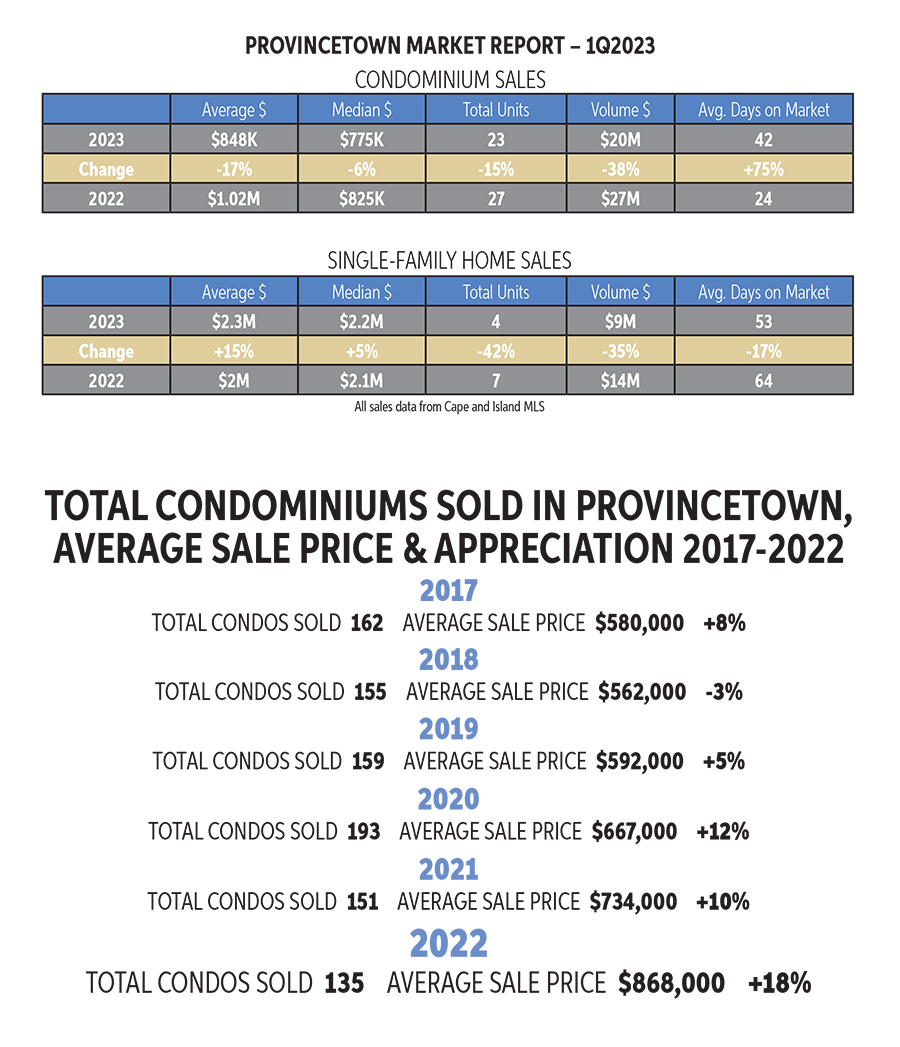 TRURO AND WELLFLEET
In Truro, single-family home sales doubled to four from two last year. And the average sales price of these four single-family homes sales was down 70% from $3.07M to $920K. This looks like a huge decrease, but it is skewed by the sale of those two relatively expensive properties last year. As of April 8, as we "go to press" there are 12 single-family properties on the market for sale in Truro.
Condominium sales in Truro were equal to last year at four. The average sales price was down 22% to $389K from $498K. There are only 4 on the market!
In Wellfleet, the average price of single-family homes was up 28% from $901K to $1.15M. Sales were down 50% to 7 from 14 last year. There are only 5 single-family home available for sale.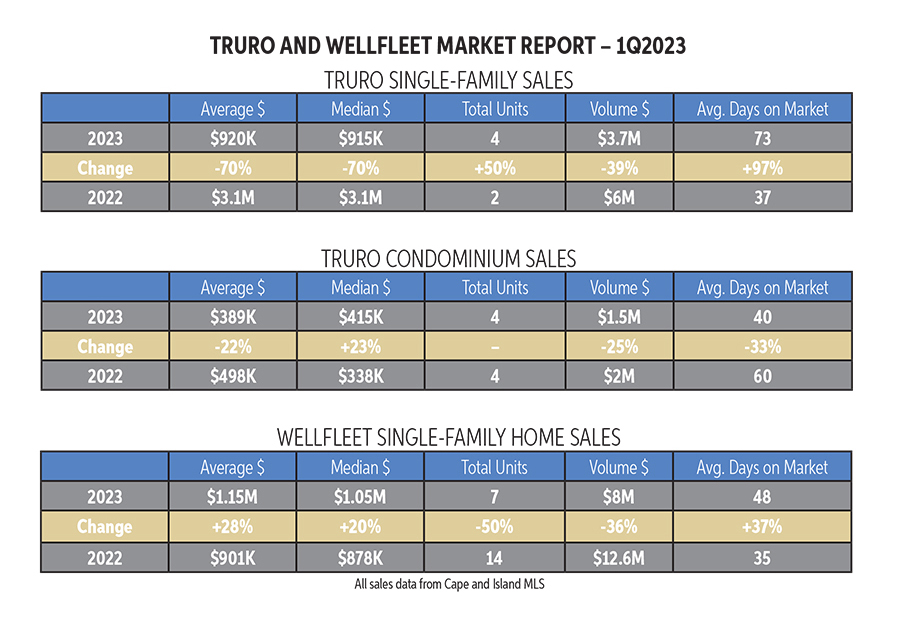 WITH SPRING IN FULL BLOOM,THE LACK OF INVENTORY ACROSS THE MARKET REMAINS THE KEY ISSUE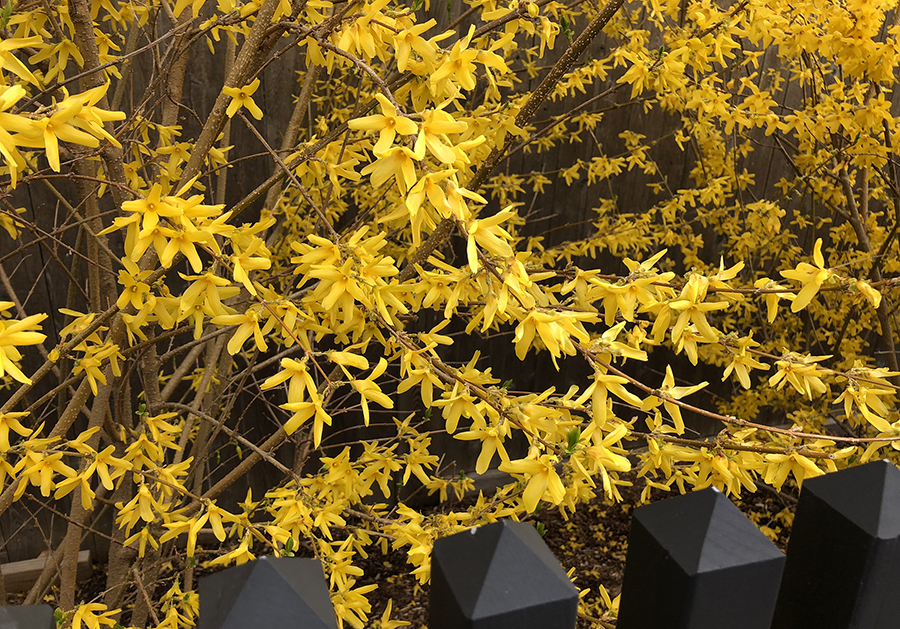 As spring is finally settling in, the message this quarter is all about the decrease in sales and the continuing lack of sufficient inventory needed to drive a healthy market. The small inventory increase is welcome, but nothing near to what demand requires. Hopefully, this will change as the spring-summer selling season warms up, but it looks to be a slow adjustment over the next several quarters. With interest rates hovering in the 6% range, fundamentals must change in order to return to a more balanced market.
Prepared buyers are still finding their dream homes though, and sellers are taking advantage of the still historically strong seller's market. Patience, knowledge, preparedness and flexibility are key whether buying or selling in these truly unusual times.
My goal is to keep you engaged in this unprecedented outer Cape Real Estate market by providing you with news and market developments as it happens. Watch for interesting stories in your email and on social media at jon.goode.com. I hope to see you on the streets soon.