Provincetown, Truro and Wellfleet Real Estate market 3Q2014 Figures 
PROVINCETOWN
Stable…solid…predictable…encouraging… qualities you don't often hear when describing second home markets, but 2014 sales-to-date are just that, and in some instances downright outstanding. While in urban areas nationally we are seeing the volatility caused by low inventory and frothy prices beginning to abate. In contrast Provincetown Truro and Wellfleet real estate markets are behaving more like mature overachievers than emotional teenagers.
Year-to-date sales through the 3Q in Provincetown were strong with condos leading the market with sales increasing 14%. The average sale price of single-family homes remained relatively flat, mostly the product of lower inventory. Provincetown had a stellar summer season once the monsoon rains of spring gave way to gorgeous and dry summer weather.
The average sale price of condos sold in Provincetown increased 3% to $446K from $432K last year, and the number of sales recorded in MLS were 14% higher than last year at 103. Sales volume increased by a 18% to $46M. The median price of condos sold also increased 20% to $426K from $354K an indicator that the belly of the market has moved up from the $400K to $600K range to the $500K to $700K range.
The average price of single-family properties sold year to date was $1.03M down a modest 1%. There were 24 single-family sales, which was down 25% from 32 last year. Total sales volume was $25M down from $33M. We continue to feel that these softer single-family numbers are being caused by the historic lack of inventory, as buyer demand remains high especially in the desirable West End and East End neighborhoods.
The $1M plus single family market remains much slower with only 6 sales and $12M in sales volume compared to 13 sales last year with a volume of $21M.
Condo inventory as of October 19 is relatively low with only 90 available with an average asking price of $515K and an average price per square foot of $604. There are 25 condos available priced between $300K and $400Kand 22 with prices between $500K and $700K
There are 47 single-family properties on the market with an average price of $1.54M and an average price per square foot of $584.
The condominium market is tracking well higher than last years. The single-family market is tracking a bit lower. Fourth quarter under agreement (pending) sales of condos are quite strong and will bolster already impressive numbers.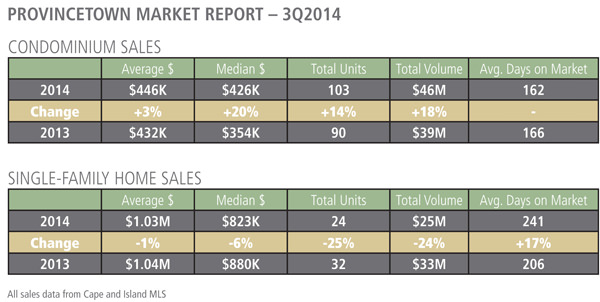 TRURO AND WELLFLEET
The single-family home market in Truro and Wellfleet has performed better than Provincetown this year. We only track single-family home sales in these towns as their condo markets consist mostly of 3-season inventory. Single-family sales have seen incredible increases this year partly a result of the dearth of inventory in Provincetown – as well as the high average price of homes in Provincetown.
The average median sales price for single-family properties in Truro is up 14% to $625K from $550K in 2013, but the number of sales was down 22% to 29 sales this year. Even with many fewer sales, volume was only down 5% to $23M.
Wellfleet turned in the strongest performance with a 29% increase in sales to 62 units from 48 last year. The median sales price of single-family properties sold was up 4% to $494K from $476K last year. Wellfleet remains a predominantly a single-family sales market too.
Positive buyer and seller attitudes coupled with a continuation of relatively low mortgage rates (30-year-fixed rates are averaging 3.875%) and an improving economy bode well for 2015 being a great year to jump into the market.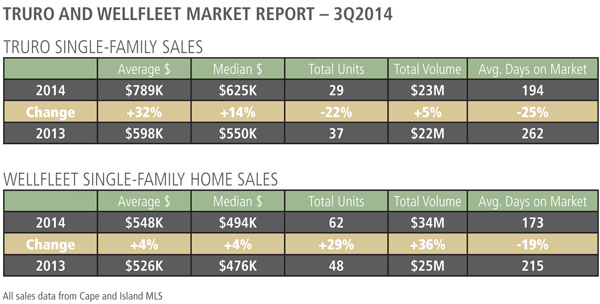 Please call or stop in if you are considering selling or buying, or if you are just curious as to what your home is worth. Our business philosophy has always been that the best-informed buyers and sellers are most satisfied with their real estate results. And that's what we do best!