Tag Archive for 'South End'
It's Q4. And while Q4 is packed with holidays, let's not forget that it's also chock-full of home sales
Read More »
If September was the month that you were supposed to put down the home sale and pick up the homework, then nobody told the Cambridge, Somerville andSouth End condominium markets. In Cambridge, the number of condominiums that went under agreement in September 2014 was 53 percent greater than did so in September 2013. In the South End, September under-agreements were up 64 percent. And versus September 2013, Somerville's under agreements were up 18 percent and the median list price of Somerville under-agreements was up an impressive 20 percent.
Read More »
Location, location, location – that's what real estate is all about. And the new Ink Block, taking shape where the South End meets Chinatown, has it in spades.
The glitzy glass-and-steel, six-building condo and apartment development is taking shape on Harrison Ave., where the big old brick red Boston Herald building stood until it was demolished last year.
Read More »
The spring market has been particularly choppy this year. Sales have stalled amid a shortage of listings that has left many buyers fuming. The up today, down tomorrow economy hasn't help things much either.
Read More »
After some torrid increases, home prices are taking a hit this spring in some upscale suburbs and urban neighborhoods across Greater Boston.
Read More »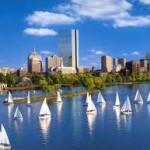 Boston is one of those hot cities increasingly favored by the global business elite.
It's easy to gaze at all the posh new apartment and condo towers on the city's skyline and wonder who can afford to live there, but the wealthy buyers just keep on coming, whether from the suburbs or from any number of distant lands.
Read More »
Condos haven't sizzled like this since the crazy condo boom of the 1980s.
Read More »
Presenting Boston's updated Eater 38, your answer to any question that begins, "Can you recommend a restaurant?" This highly elite group covers the entire city, spans myriad cuisines, and collectively satisfies all of your restaurant needs. Every few months, we'll be adding pertinent restaurants that were omitted, have newly become eligible (restaurants must be open at least six months), or have stepped up their game.
Read More »
'Tis a busy, busy time in the Boston condo market, what with lightning-fast sales and super-low inventory (two not-unrelated phenomena). But which are the busiest of the busiest condo buildings in the city? Thanks to the crackerjack research of our pals at PropertyShark, we can give you a very good idea. Herewith the 10 Boston condos with the most sales in 2013. Some of the usual suspects are here—Harbor Towers, the W Boston—but also a few surprises (and surprise omissions, we think:paging Millennium Place?). A couple of caveats: The 10 cover closed deals in calendar year 2013, and only deals of at least $10,00
Read More »
Yes, condo prices are getting nutty again.
The median price of a condo in Massachusetts crossed the $300,000 threshold in January.
Read More »